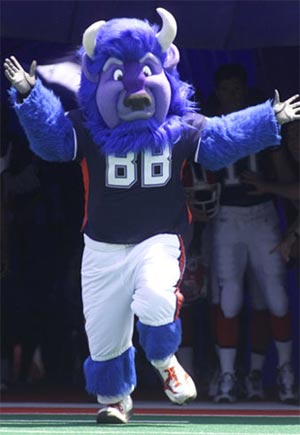 I really am tempted to write a
Slate
–like cranky crit­i­cism of the
new Buf­falo Bills uni­forms
, but I will try to say some nice things:
The dark blue is great. I like the stripes with the gray on the helmet.
(Here comes the cranky part) So, if you're going to make an "update" with the new darker blue, why would you keep the lighter royal blue? Wouldn't it be nice to put the num­bers in red, or gray? or the new dark blue? Doesn't that light blue look just as dated now as it did last year? Why do the white uni­forms have a blue bar on the shoulders?
And the logo—change the f*cking logo. I think the Sabres got the logo RIGHT. It's tough, mod­ern and looks fuck­ing great on the front of the uni­forms. The Bills logo (much like the orig­i­nal Sabres jer­seys) is the bor­ing old abstract corporate-art that is a direct rip-off of that 1970s Buf­falo pro­pa­ganda "WE'RE TALKING PROUD". Talk­ing Proud? We're talk­ing MISERY.
Let me tell you what I really think. In a move true to this nos­tal­gic age we live in, the Bills tried to pre­serve many ele­ments of the old uni­forms, while updat­ing the col­ors a lit­tle. The result? It's an inco­he­sive mish­mash of styles and col­ors, try­ing to be every­thing to every­body and it fails all around. There is noth­ing intim­i­dat­ing about these jer­seys, nor is there any­thing "new".