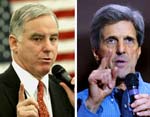 NH Pre­dic­tion: Dean will not win—but, he might become the Come­back Kid of 2004 with a strong 2nd place fin­ish. Where does Kerry go after NH?
Then again, I've been wrong before.
On a com­plete aside, I was up in Con­cord work­ing for Al Gore 4 years ago, hav­ing hauled sev­eral cars-worth of Mass­a­chu­setts col­lege stu­dents in tow. See­ing the weather fore­cast, I don't regret sit­ting this one out.