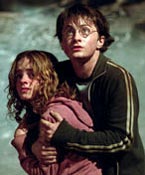 Review: A+
Yes, we attended last night's show­ing of Harry Pot­ter and the Pris­oner of Azk­a­ban, at 12:01am. And, despite some sug­ges­tions from my work mates, I did not play dress-up.
My reac­tions and excite­ment after see­ing the 3rd install­ment on the big screen, directly par­al­lels what I felt a few years ago when I dug into the 3rd Pot­ter book — Azk­a­ban is where the series takes a much darker turn. The Demen­tors are fright­en­ing in the film, though the new direc­tor Alfonso Cuar?n devotes far more energy to stok­ing fear of Sir­ius Black, than of the prison and it's soul-sucking guards.
Over­all, Cuar?n's vision is a breath of fresh air — the film is scarier than Chris Columbus's two films, (it's a mys­tery to me how films like this man­age to receive a PG-rating), but it's bal­anced with a few whim­si­cal moments cour­tesy the Whomp­ing Wil­low, and by Michael Gambon's quirky take on Dumbledore.
How long do I have to wait for the Gob­let of Fire?
UPDATE: Capn saw it last night too