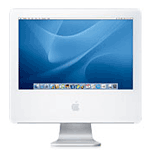 Wow. Look­ing at the newly-posted info on the G5 iMac, I'm again speech­less. "Where did the com­puter go?", indeed.
It appears that Apple has done it again… this iMac G5 almost looks slim­mer and lighter than Dell lap­tops! Those things are bricks, and they're sup­posed to be portable.
It seems as if Apple and IBM have solved the G5 heat prob­lem. So does that mean that we'll see a G5 Power­book by Christmas?